Is your business lagging due to time-consuming manual tasks and inefficient operations? Are you seeking ways to enhance productivity, collaboration, and customer satisfaction? Does the idea of leveraging cutting-edge technology like robotic process automation (RPA) and AI-powered automation excite you?
If you answered yes to any of these questions, then our AI-powered business automation solutions are just what you need. At Zoeble, our team of experts is committed to designing, implementing, and managing tailor-made digital workflows that cater to your unique needs and goals.
We collaborate with businesses of all tech capabilities and specialize in working with non-technical clients to deliver exceptional outcomes.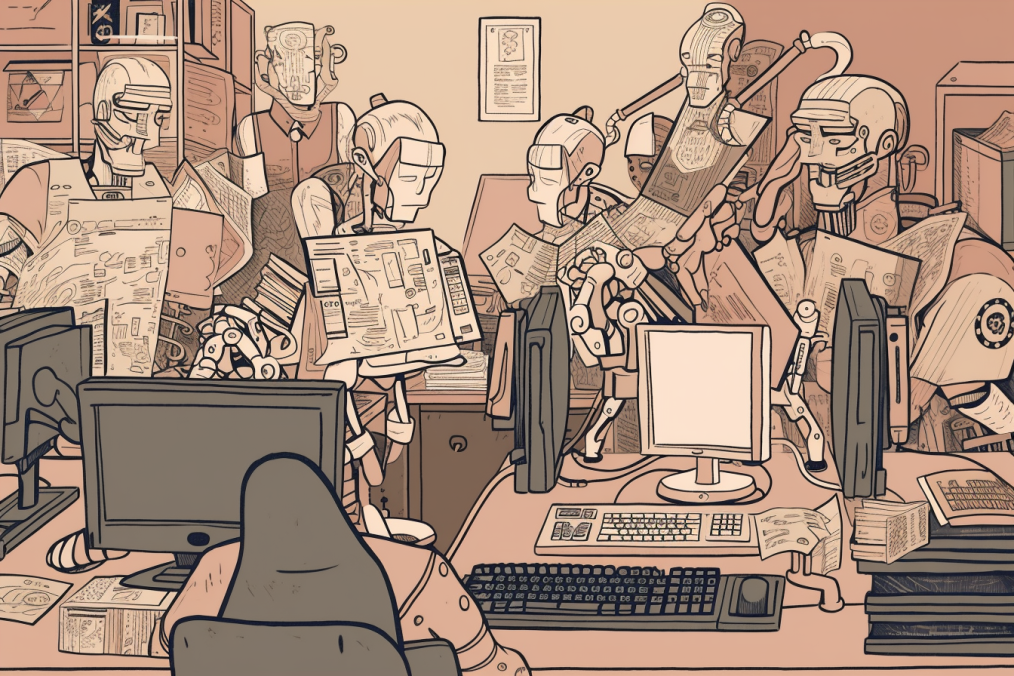 What is AI-powered business automation?
AI-powered business automation refers to utilizing advanced technologies such as artificial intelligence (AI), machine learning (ML), and robotic process automation (RPA) to automate repetitive tasks, streamline end-to-end processes, and enhance decision-making and data analysis across organizations.
Why do you need AI-powered business automation?
AI-powered business automation offers numerous benefits, including:
Increased productivity: Automate repetitive tasks, allowing your employees to focus on high-value activities that require human input. Save time and improve efficiency by automating data entry, order processing, invoicing, and more.
Improved accuracy: Eliminate errors inherent in manual data entry and other processes by leveraging automation. Enhance the reliability of financial reporting with automated accounting processes.
Cost savings: Reduce labor costs by automating various functions, such as marketing processes, to minimize the need for additional staff.
Enhanced customer experience: Provide swift and efficient support through automated customer service functions like chatbots and automated email responses, ensuring a superior customer experience.
Examples of AI-powered automations we can implement in your business
Email marketing: Automate personalized, targeted emails to customers based on their behavior and preferences.
Talent acquisition and hiring: Leverage machine learning for resume screening, interview scheduling, and feedback sending.
Customer service: Implement 24/7 automated support, FAQ answering, and feedback collection using chatbots or virtual assistants.
Sales: Streamline lead tracking, prospect follow-up, proposal creation, and deal closing with automation tools.
Human resources: Simplify payroll management, benefits administration, performance reviews, and employee engagement using automation tools.
Accounting: Implement automated invoice generation, expense tracking, transaction reconciliation, and tax preparation.
Inventory management: Optimize stock level monitoring, product reordering, warehouse space allocation, and theft or loss prevention using automation tools.
Social media marketing: Schedule posts, engage followers, analyze metrics, and manage ads across platforms with automation tools.
Product recommendation engines: Provide customers with relevant product or service suggestions based on their browsing history or purchase behavior using AI-based automation.
Expert shopping advisor systems: Offer personalized advice and guidance to customers based on their needs or preferences with AI-based automation.
Learn more about the power of automation in our recent blog post!
Supercharge Your Marketing with AI-Powered Marketing Automation
In today's fast-paced digital landscape, effective marketing is crucial for business success. With AI-powered marketing automation, you can streamline your marketing efforts, improve customer engagement, and drive better results. At Zoeble, we specialize in providing sophisticated marketing automation solutions that enable you to:
Personalize your marketing: Create tailored content and campaigns for your target audience, boosting customer engagement and conversion rates.
Improve lead nurturing: Automate lead scoring, segmentation, and nurturing processes to identify high-potential prospects and guide them through the customer journey effectively.
Optimize email marketing: Send personalized and targeted emails at the perfect time, ensuring higher open and click-through rates.
Automate social media management: Schedule posts across multiple platforms, engage with your audience, and track metrics to analyze the performance of your campaigns.
Maximize ROI on ad campaigns: Leverage AI-driven insights to optimize your ad placements, targeting, and budget allocation, ensuring maximum ROI on your marketing spend.
Enhance Customer Interactions with Contact and Response Automation
In addition to marketing automation, Zoeble offers advanced contact and response automation solutions that help you provide exceptional customer experiences. With our AI-powered contact and response automation services, you can:
Automate customer support: Implement chatbots and virtual assistants to handle routine customer inquiries, provide instant support, and collect valuable feedback 24/7.
Streamline sales processes: Automate follow-ups, proposal creation, and deal tracking to ensure timely responses to prospects and improve sales efficiency.
Deliver personalized content: Utilize AI-driven content recommendations to offer tailored information and resources to your customers based on their interests and behavior.
Improve response times: Quickly address customer concerns, inquiries, and requests with automated email or chatbot responses, resulting in higher customer satisfaction.
By combining the power of AI-driven marketing automation with contact and response automation, you can transform your customer interactions, boost engagement, and drive business growth.
Why choose Zoeble for your AI-powered business automation needs?
At Zoeble, we understand that every business is unique, and so are its automation requirements. Our commitment to delivering tailor-made solutions backed by years of expertise sets us apart in the industry. Here's why partnering with Zoeble for your AI-powered business automation needs is the best decision you can make:
Industry-leading expertise: Our team of experts at Zoeble is well-versed with the latest automation technologies, including AI, ML, and RPA. We bring extensive knowledge and experience to the table, enabling us to design and implement the most effective automation solutions for your business.
Customized solutions: We recognize that a one-size-fits-all approach doesn't work when it comes to automation. That's why we take the time to understand your unique business processes, challenges, and goals before crafting bespoke automation solutions that align with your specific needs.
End-to-end support: Our services don't end with the implementation of automation solutions. We offer ongoing support and maintenance to ensure that your automation initiatives continue to deliver optimal results. We also provide training and guidance to help your team adapt to the new workflows with ease.
Scalable and future-proof solutions: As your business grows and evolves, your automation needs will change too. Our scalable solutions ensure that your business stays ahead of the curve by adapting to the changing landscape of automation technologies.
Holistic approach: We believe in a holistic approach to automation, ensuring seamless integration of our solutions with your existing systems and workflows. This enables you to maximize the benefits of automation across your entire business ecosystem.
Data-driven decision-making: We harness the power of AI and ML to enable data-driven decision-making, helping you gain valuable insights and make informed choices that drive growth and success.
Security and compliance: We prioritize the security and privacy of your data, adhering to industry best practices and compliance standards. Our automation solutions are designed to safeguard your sensitive information while delivering the benefits of streamlined business processes.
Don't let outdated processes and manual tasks hold your business back. Partner with Zoeble, the experts in AI-powered business automation, and unlock the full potential of your organization.
Ready to transform your business? Contact us today for a free consultation!